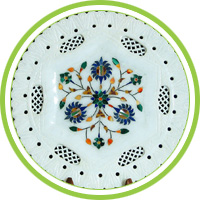 Elegant Natural Stones- Adorn your Property with our Magnificent Stone Inlay Work
Elegant Natural Stones is happy to introduce ourselves as leading manufacturer and supplier of Stone Inlays which are crafted with artisan quality to cater an exhaustive variety artwork. We use different colored stone like marble, semiprecious as well as precious stone to craft the image. Stone inlays are excellent addition in exterior and interior decorations and are available in various color combinations. Taj Mahal is one such example where this work of art adorns the monument. Elegant Natural Stones is one such exponent who expertise and has preserved this traditional art of architectural beauty.
We prefer using natural stones for the artwork such as White marble and Creama marble are popularly used as bases, but in case of requirement colored stones can also be used. The Inlay stones can be selected from array of colors available such as Green marble, White jasper, Chocolate stone, Red jasper, Malachite, Torques, Alikantak, Ruby, Amethyst blue, Jaiselmer red, Brown bidasar, Lapis, Green aventurine, Cobra stone etc. These colored stones are shaped and polished and are placed on base with adhesive. After ensuring that it has dried out the surface and edges are polished for fine finish and long lasting shine. We ensure that the Inlays are properly packed from all sides for safe delivery.
Prices of the inlay items will depend upon quantity of stones used, more stones will fetch more price; smaller size reflects fine quality; intricate workmanship will cost higher; use of costly stones such as malachite, turquoise, coral etc will be priced higher. The inlay artwork can be used as inlay flooring, inlay table tops, inlay medallion, marble inlay dining table etc.
Elegant Natural Stones undertakes custom work designs and would be delighted to decorate your interiors and exteriors to your complete satisfaction. Allow us to employ the technique to bring you home the magnificent artwork of Taj.